Uncover the Excellence in Your Content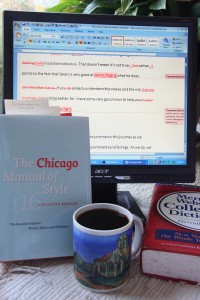 Good editing will perfect and even transform your writing. The CopyFox provides editing and proofreading in two areas.
Publishing—You've written a book or an article and want to ensure that from its logic and flow to its spelling, grammar, and style, it reads beautifully.
Marketing—Maybe your web content needs fine-tuning to clean it up and punch it up. Or your sales literature could use a second, experienced set of eyes to improve its quality and effectiveness.
Whether your project is literary or business-oriented, editing by The CopyFox can help you bring a good start to a stellar finish.
"You're a great asset to us [at Kregel Publications]. I admire your desire to give each project your absolute best. . . . While editing is difficult, I believe you have an advantage over many other editors—you are such a gifted writer that choosing a better word and enhancing the flow of text is second nature to you."—Steve Barclift, Kregel Publications
Publishing
That book you've invested your life's blood in writing over the past year . . . that article you've spent time and thought in crafting . . . you want it to be perfect. No ambiguous language to make your readers think, "Eh?" No awkward sections that impede the flow. Just limpid, well-paced writing that engages your readers fully from the opening sentence to the final period, and—very importantly—that sounds like you at your best, not your editor.
I can help. My inner editor is a perfectionist and will strive to make your writing the polished product you're hoping for.
Marketing
The CopyFox combines marketing and editorial perspectives to dramatically improve your marketing content. Drawing on fourteen years of in-house experience editing the copy of other copywriters, I can
organize your copy so it flows well and reads with crystal clarity
correct bad grammar, misspellings, and inconsistent style (so you'll look as smart as you are!)
eliminate clutter and ambiguities that bog down your readers
make your customers the star of the show so you keep their interest from start to finish
link your product's benefits to people's needs and emotions (the key to generating sales)
ensure that your calls to action are well-placed and easy to follow
incorporate keywords in your web content that help the right readers find your site*
and more!
Your content will read better, get more attention, pack more energy, produce better results, and enhance your credibility and professional image.
Good Writing Is Well-Edited Writing
Check out my competitive
rates
and 
contact me today
to discuss your editing needs.
"Working with Bob has been a joy. Even though we've never met in person, it feels like a true friend is handling my writing. Not that he takes it easy on me, but that he takes my writing seriously. His revisions and suggestions have been spot-on."—Berry Simpson, author,

Trail Markers: Life, Leadership, and Leaving a Spiritual Legacy


* As part of your complete SEO approach. I don't handle coding or other technical aspects of SEO, just the content side of it. I'll work with you and/or your SEO person to create text that is both substantive and search-friendly.