For a special holiday treat, I thought I'd try something a little different. In this post, my friend Berry Simpson, author of
Trail Markers
,
Remodeled
, and other books, shares his heart and wisdom on the gift of family togetherness. Since my introduction to Berry's writing in 2012, when I edited
Remodeled
, I've appreciated his gift as a writer for sharing plainspoken, heartfelt wisdom gleaned from his life as a runner, an outdoorsman, a Bible teacher, a blogger (
What I've Learned So Far
), and above all, a lover of God and his family. It is this last that he writes about here in his piece titled . . .
To Be Together
(C)2017 by Berry Simpson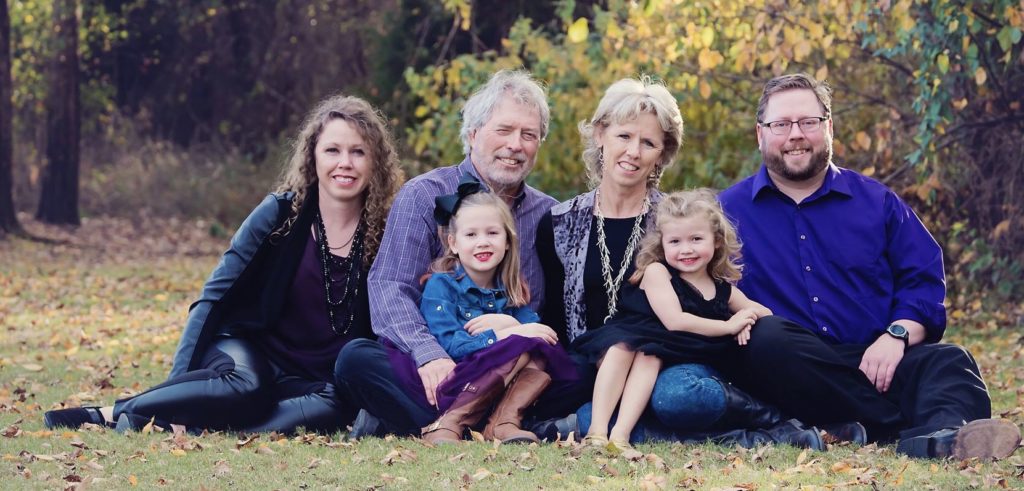 We had a family photo shoot Saturday afternoon organized by our daughter, Katie, with her extraordinary photographer friend, Cindy. We were in Mansfield, Texas, about five hours from our house in Midland. That might seem like a long drive for pictures, especially since we were all together the week before for Thanksgiving. I would have thought so myself a few years ago, but nowadays I think it makes complete sense. We had our entire tribe: our daughter, Katie, and her two girls, Madden and Landry; our son, Byron, who drove down from extreme north Dallas; Zoe, an adopted tribe member and exchange student from Germany currently living with Katie and the girls; and Cyndi and me. We met at a local country club, a location that Cindy, the photographer, uses often, since "they've never chased me away." It was a fun afternoon. We posed in every possible combination: the girls, the girls with their mom, the entire family, the family with Zoe, Cyndi and me with the girls acting silly in the grass, and the crowd favorite, Cyndi and me kissing.
The Gift That Can't Be Wrapped
The morning before, I participated in a video conference with my great friend Gary from Colorado Springs. He was recording an interview about how calling changes your life and ministry, and we started talking about our recent Thanksgivings. We laughed at how being grandfathers has changed our family gatherings. For instance: I remember asking my parents what they wanted for Christmas, and all they would say was, they wanted us to be together. We wanted them to tell us something we could wrap and put under the tree; they would never commit to a gift that I could put in a box. Now I am the one who tells my kids that for Christmas, all I want is for us to be together. Only now do I realize how important that is. Now I get to watch my kids roll their eyes. It has come full circle. Like that. We are blessed as a family. I thank God for that every time we are together. We are able to spend time with each other and still remain friends. I never knew how rare that was until I heard so many men tell their life stories. Now I am convinced we are blessed. For Thanksgiving we had mostly traditional food. (Zoe was fascinated by my process of carving turkey! Had I known how closely I would be observed, I would've watched a few more YouTube videos to polish my skills.) We enjoyed grilled sweet potatoes, homemade bread, homemade apple pie, homemade hand-decorated sugar cookies, brisket chili rellenos, sweet potato pie, all the other favorites—and no green bean casserole! But what we most relished sharing were the stories and the laughs and the embarrassing family memories.
My Father's Greatest Legacy
This year was my first Thanksgiving holiday in a decade with neither of my parents present. My mom died in 2014, and my father died just last March, eight months ago. Several people, both family and friends, asked how I felt about not having my dad with us, and was I OK being the oldest person in my lineage. To be honest, the topic had never occurred to me. I said, "When Dad died, we were all caught up. There were no stories untold and no grudges or secrets between us. His was a peaceful and well-deserved departing. Dad left us in good shape, loving each other and loving Jesus. The holiday was great." On her most recent Christmas album, Amy Grant sings:
When you open up that door To old familiar rooms of love and laughter Coming home just the way you are Knowing this is all that really matters To be together
And so, only a week after we saw each other at Thanksgiving, we were all together again taking official family photos. It was fun. And our favorite part was when Cindy the photographer asked us to move closer to each other and snuggle more. I'm not so naïve as to think everyone has together moments like this. But whatever time you have with the people you love, I hope you lean in and find a way to enjoy each other. Together.