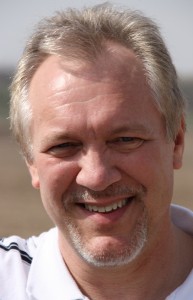 Yes, the CopyFox has a real-life name. I'm Bob Hartig, I live in West Michigan near Grand Rapids, and I've been working with words professionally for more than twenty years. I spent my first fourteen of those years as the copy manager for Zondervan Publishing House. Working for the world's leading evangelical book and Bible publisher was a fantastic experience that allowed me to interact daily with world-class editors and marketers as well as award-winning authors. In 2007 I started my own home-based editorial and writing service, serving a diversity of clients ranging from publishing houses such as Kregel and Zondervan to independent authors. I love the freedom and flexibility The CopyFox affords me, and I strive to ensure that my clients are delighted with the results they get working with me. Besides being the owner of The CopyFox, I'm also a jazz saxophonist and a storm chaser. You can read about both of these interests at my blog site,
Stormhorn.com
. My book 
The Giant Steps Scratch Pad
 helps jazz instrumentalists master Coltrane changes. My video of an EF-4 tornado in southern Indiana was featured, along with a personal interview, in May 2015 on The Weather Channel in the Henryville, Indiana, episode of
Tornado Alley
. That's me in a nutshell. Now what about you? Email me or give me a call and let's talk about your project.